The 2019 Volkswagen Jetta – A Closer Look
The 2019 Volkswagen Jetta has seen some changes, adding to its existing qualities from years past. Bodywork, chassis, and interior changes to name a few make for a sportier and sleeker 2019 VW Jetta. It is now a bit larger and wider which adds some interior space (1cu.ft.) and comfort giving you a total of 108.8 cu.ft. of interior space. Whether you are going on a road trip, to work, or to the grocery store, this car will provide you with all the comfort and room you will need with its ample legroom in the front and back, high roof entry and low floor sills. In addition, you will have 14.1 cu.ft. of trunk space. It combines the elegance, comfort and style that you want with the value that you need.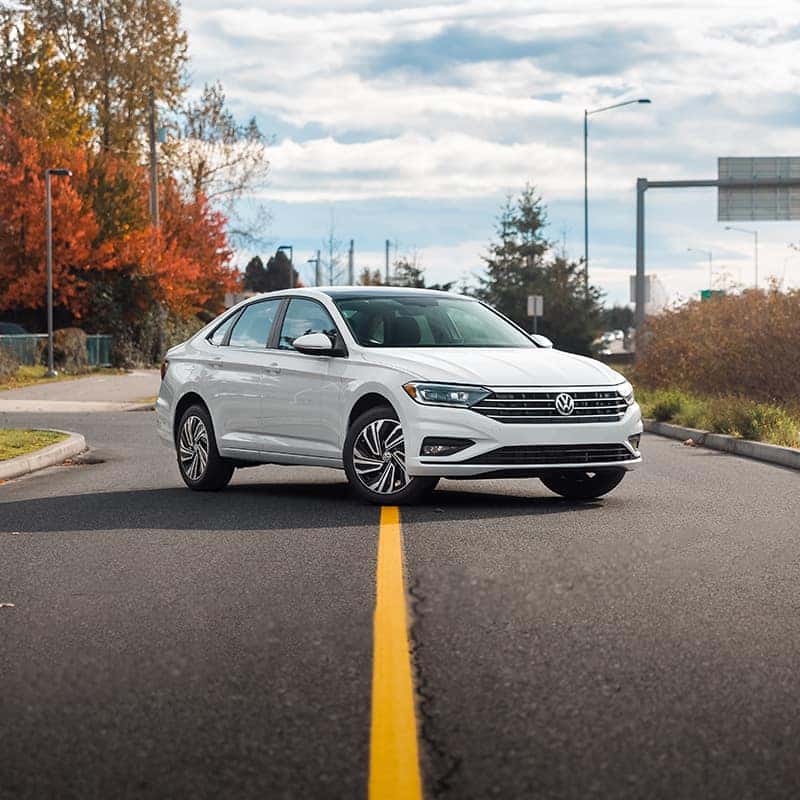 The interior has a more modern appeal complete with 3 driving modes and custom ambient lighting, allowing you to customize your drive with what type of mood you're in. This is great for that stressful drive home, or after a tough day. The 2019 VW Jetta comes with a standard 6.5-inch touchscreen, rear view camera, USB port, Bluetooth connection, apple car play and android auto. Upgrades are available for a larger touchscreen plus navigation. Do you have more than one person driving your car in your family? The 2019 VW Jetta can store up to four driver profiles which makes for a much easier driver to driver transition and less headache for you! Ask about more upgrades and different models for even more comfort. Climatronic climate control, key less access- push start, ventilated front seats are just a few of the many luxuries that the 2019 Volkswagen Jetta has to offer.
The 2019 Volkswagen Jetta's turbocharged 1.4 litre in-line 4-cylinder engine makes this car quick and easy to handle, allowing you to safely and efficiently merge on to freeways, and get where you need to be. The 2019 VW Jetta comes equipped with standard LED headlights, taillights and daytime running lights assuring safety and lighting your way in all weather and driving conditions. The 2019 Volkswagen Jetta also come equipped with alloy wheels which are lighter and have many advantages over steel wheels. Less weight means quicker acceleration, easier handling, and faster stopping time.
The 1.4 litre turbocharged engine nets 7.8L/100km city driving or 5.9L/100km highway driving making it one of the most fuel-efficient cars on the market. Great for daily driving, to and from work, or on a road trip, the 2019 VW Jetta won't drain your bank account with the rising price of gas. This car also has a variety of drive modes: eco, sport, normal or custom. Do you feel like having some fun? Try sport mode out and feel the changes in your 2019 VW Jetta's steering and throttle. Would you rather save some gas? Try putting it into eco mode and make your hard-earned money go a bit farther.
Over all, the 2019 Volkswagen Jetta was made with the driver's complete comfort in mind and it succeeds in doing just that and more. Customizable to the driver's needs, this car is an economical yet elegant car that you would feel safe in and be proud to drive.