the 2019 Volkswagen Golf GTI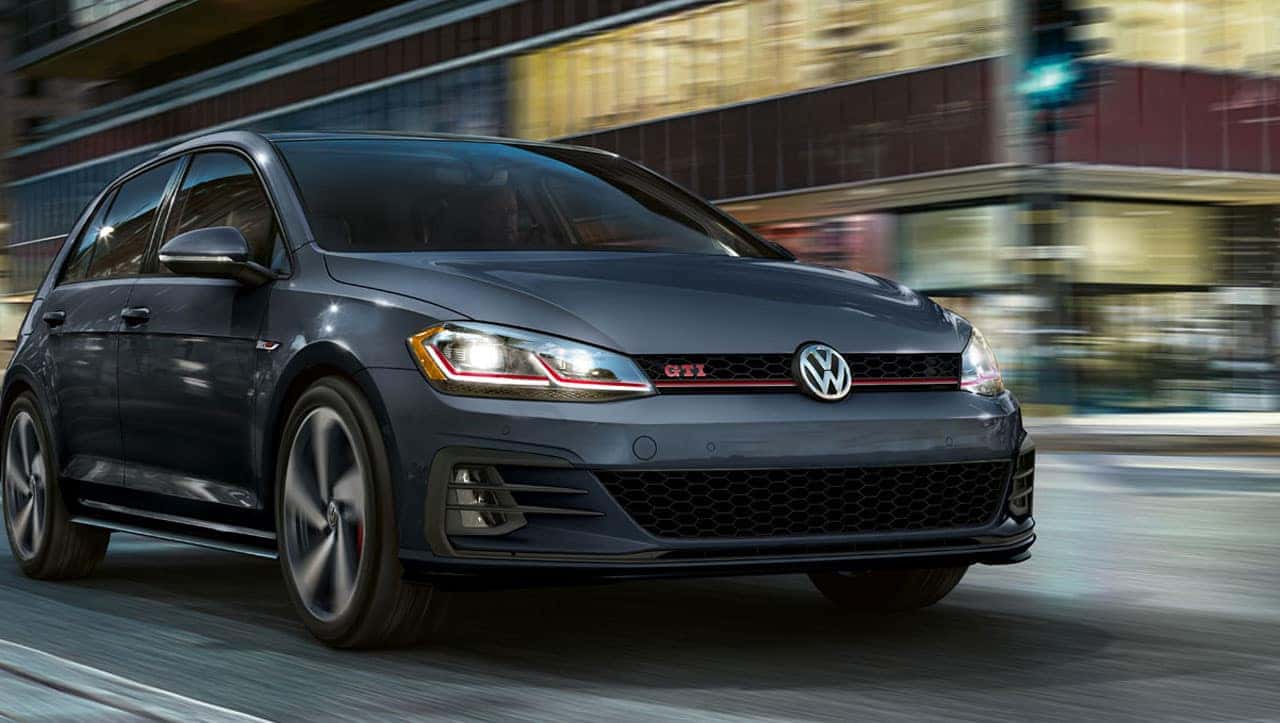 The 2019 Volkswagen Golf GTI
You can sum up the 2019 VW Golf GTI with three words- sporty, sexy and fun. 2019 brings this Volkswagen Golf to a new level with its design and Volkswagen's style. The VW Golf GTI has 18 inch alloy wheels and LED lights ensuring your safety wherever you go. It has a 228hp-2.0 L turbo engine with 258lb-ft of torque. Yes, you will have fun driving this sporty car and you will look good doing it. It has a 6-speed manual transmission or a 7-speed automatic, choose to suit your driving style. With a sport suspension that is well balanced and firm, you will corner like nobody's business. The Volkswagen Golf GTI also has an available panoramic sunroof, brightening up the interior and allowing you to enjoy more of the outdoors while in your vehicle. There is ample space in the VW GTI Golf- the rear seats fold down allowing you to make use of the hatchback design.
The base GTI comes with available plaid or black leather interior, 8 inch touchscreen, smartphone integration (apple or android), leather steering wheel, rearview camera and a post-collision braking system. It has amazing fuel economy with 7 3L/100km highway and 9.8L/100km city. Make the most of your fuel economy with a 2019 Volkswagen Golf GTI which is very important with our ever rising fuel costs.
Volkswagen Golf GTI- Rabbit Edition
The 2019 Volkswagen Golf GTI also has an available Rabbit Model complete with a plaid interior, floor mats with red piping, and an iconic Rabbit badge. You will want to be seen in this car; complete with a black painted rear spoiler featuring a VMax lip and black mirror housing (only for special edition rabbit.) The VW Golf GTI Rabbit edition has dynamic chassis control which lets you adjust the firmness of your suspension in the fly. How cool is that? Volkswagen's safety features are also available with this model:
Blind spot detection with rear traffic alert.
Adaptive cruise control which auto brakes when traffic is slowing down and resumes speed as needed.
Front assist with pedestrian monitoring.
Lane assist helps to keep you in the correct lane.
The 2019 Volkswagen Golf GTI is an exciting new edition to the Volkswagen family – revamped and better than ever! Come visit us at Abbotsford Volkswagen to test drive one of these out, and have some fun while doing it! You won't be disappointed! If you have any questions at all, please give us a call.